Christmas Market in Madrid
Plaza Mayor in Madrid is the epicenter of the Christmas atmosphere in the capital.
The famous Christmas Market with its more than 100 red and colorful stalls attracts locals, national and foreign tourists. It is worth a visit both day and night; it is full of life almost 24 hours a day.
Here you can buy everything from Christmas decorations, Christmas trees, nativity figurines, toys, amusement articles… to a four-leaf clover or mistletoe (according to legend, kissing under the branches of mistletoe brings luck in love and fertility).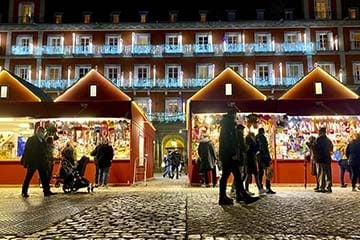 Already in the 17th century, fruit and vegetables, ornaments and gifts were sold next to the Plaza Mayor, specifically in the Plaza de Santa Cruz. Two centuries later, the Plaza Mayor was used for the sale of food (nougat, sweets and meat) and the Plaza de Santa Cruz for the sale of decorations and nativity scene figures. Nowadays the sale of food is forbidden but the square is full of bars and restaurants where you can taste typical tapas, eat a "bocadillo de calamares" or "churros con chocolate".
If you want to see the Christmas Market and also hear stories and anecdotes about the Plaza Mayor, sign up for one of our tours, our guides have a lot to tell you!